If you or someone you know might need help, please call the church: phone number is 905-765-4524;  email is caledonia.presbyterian@gmail.com
God continues to make house calls…. and the Lord is with us always.   The Church is alive and active.  Pastor Janice is also in the church office on Mondays and Fridays and messages will be checked regularly.  We have resumed our in person worship and gatherings, and  our pandemic safety protocols remain in place.  We would be delighted if you joined us in person, or virtually through Facebook live Sunday mornings, or on our YouTube channel as well.  Devotions, Music Ministries and virtual worship can be found at the following link:  https://www.youtube.com/channel/UCVmuiwInp3ZI1Zkl_5pEjQA 
We also worship on most Wednesdays through Facebook and Youtube with a brief devotion. Each virtual Wednesday service is 10 – 15 minutes in length and gives one a chance to pause from the busyness of life and spend some time with our Loving Creator. Be sure to check out our YouTube channel for new services each week.
Let's do our part and reduce the amount of reusable items going to the landfills:  We will be holding a textile drive at the church: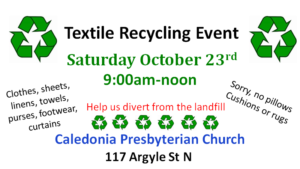 We're excited to announce that we will be offering a drive thru chicken dinner fundraiser in November: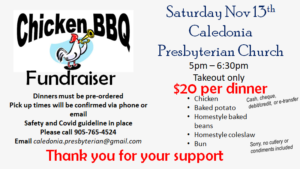 With September 30 recognized as Truth and Reconciliation Day, as well as Orange Shirt Day, we worshiped in a spirit of lament:
Celebrate Communion across time and space as we reflect on how we, the people of God, are much like the bread and wine of Communion:
As we close the summer, we reflected on the lyrics of the rock band the Eagles, and how it can reflect our lives as well:
Our latest virtual worship series in August invites us to reflect on our Adventures in Faith:
Another adventure with the Spirit – and adventure with a spiritual disciple known as The Examen:
Adventures with the Spirit, worship August 15th
Faith Hope and Love – Rev. Rick Warne leads worship for Sunday August 8th:
Adventures with Jesus:
Adventures with God:
If you have questions about the Presbyterian Church and residential schools, information can be found on our denomination's website:
https://presbyterian.ca/2021/06/05/pcc-and-residential-schools/
Would you like to give to Caledonia Presbyterian Church?  You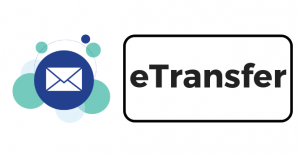 can help us as we continue to bring God's Kingdom and God's love to our community and the world around us. You can give through your online banking platform and send an e-transfer to caledonia.presbyterian@gmail.com.  If you're in town, we can also offer contactless givings using your credit or debit card with our square reader, and perhaps you might wish to send a cheque through the mail to Caledonia Presbyterian Church, 117 Argyle Street north, Caledonia, ON N3W1B8.  Thank you for your givings; our little bits can come together to do some wonderful and miraculous things!
AN IMPORTANT ANNOUNCEMENT FROM OUR LEADERSHIP TEAMS:
We thank you for joining us virtually and spiritually online through Facebook, YouTube, email, and even joining spiritually in our printed devotions.  It is important to worship, and it is important to remain connected, even as we determine what these connections and worship and gatherings will look like as we step into the future.
Your leadership teams of Caledonia Presbyterian Church have continued to meet safely during these pandemic times, and many have been asking about the resumption of 'in person' worship on our Sunday mornings.  Safety is our first and foremost concern, and while we do not wish to step out in Fear, we do wish to step out and up in Faith.
The Covid virus is a respiratory virus, thus spread primarily through droplets when people come in close contact with one another.  Indirect contact and transmission can occur when contaminated surfaces are touched (usually by the hand) and then transferred to the host (i.e. a person may touch a contaminated surface, then touch their face or nose with the same hand). Therefore, handwashing/sterilizing and not touching your face, mouth and nose are extremely important.  Though the situation could change, at the present time masks are certainly encouraged but not mandatory.  Scientific evidence states that a mask may not protect the individual from contracting the virus, but it certainly helps the mask wearer not to spread the virus as a potential carrier.
So what does this mean?  How might this look? How do we minimize risk and still feel safe?
Some potential changes to expect so we can welcome you back to worship:
Everyone is asked to sanitize their hands with provided sanitizer when entering the building/sanctuary/fellowship hall. Unless you are unable to wear a mask due to medical reasons, everyone is asked to wear a mask or face shield when entering the building and during worship on Sundays. A greeter will be available and ensure everyone sanitizes upon entry.  We will also be recording attendance for contact tracing.
Families/Bubbles are asked to sit together for worship.  Seating will be a minimum of the provincially mandated 2 Metre (six feet) social distancing requirements. While we are blessed with ample space for seating in our sanctuary, it may look and feel a little different.  An 'usher' might escort you to the next available socially distanced space in the sanctuary, but we ask that you sit in the marked 'blue X's'.  Many are used to sitting in a familiar seat or pew, but in these times, and with safety in mind, we will do our best to seat from front to back in an effort to minimize the need to step past others while taking a seat for worship; thus, for many, we will not sit in 'our usual spots.'
We ask everyone to refrain from handshaking, hugging and physical contact at this time, as well as singing out loud.  Humming and quietly singing along is permissible, but again safety is a priority.
Bulletins will not be made or distributed for Sunday worship so that we can minimize person to person contact and social distancing. All readings and songs will be on the large projection screen for viewing.
You may have heard that some churches have removed all Bibles and Hymnals from their pews.  Research has indicated that the virus can live on paper and wood surfaces for up four days; since we offer one worship service in our sanctuary once each week, our teams have decided to leave all paper products in place. Additionally, since we are only using the sanctuary once a week, the pews and seats should be virus free after having no physical contact for seven days; thus, seating in different pews from week to week should not impact safety protocols.
While we cannot sing as loud and proud as we may be used to for worship, we encourage humming and softly singing along to any favorite music should the Spirit move you. We will also remain seated during our worship time together, but you are certainly welcome to stand and stretch at any time.  Unfortunately, our choir will not be able to sit together in our choir loft during these times as well, though we may utilize the choir loft for seating space.
As we cannot offer coffee and beverages after services, we look forward to resuming coffee and snack fellowship when it is safe to do so in the future.
We encourage you to remain seated during worship.  The washrooms are certainly available, but will not be sanitized after each use.  Again, handwashing is very important, and one can use the paper towel to open the washroom door and then dispose the paper towel afterwards as we exit the washrooms.  Trash receptacles will be available just outside the restroom doors as well. Washrooms will be sanitized weekly, and individuals are encouraged to use the disinfectant wipes provided for use as well.
As we exit the sanctuary, we ask everyone to leave from the front rows first and down the center aisle, and then exit out directly through the fellowship hall and then immediately out the back door, all the while maintaining the 2 meter distance between one another.  Using one door to exit will lessen the likelihood of any 'traffic jams' and should ensure a smoother flow of our exit. People are encouraged to keep their coats, outerwear and umbrellas if needed with them in the sanctuary as the cloak room will be unavailable for hangings; all hangers will be removed as well.  There will be ample room on our pews beside us for our outerwear as we maintain our social distancing protocols.
Givings and offerings can be dropped into the offering plate on the smaller communion table at the front of the church as we make our way out of the sanctuary at the conclusion of worship.
The Nursery area and PrayGround are temporarily unavailable during our renovation project and young people are welcome to remain in worship with our family.
Weather permitting, as we exit the building, Pastor Janice will be able to safely social distance outside past the stairs in the parking lot upon completion of worship. The back door may also be propped open, weather permitting, and worshippers are encouraged to sanitize their hands upon exit once again should they so desire.
Our priority is that we desire everyone to feel safe, and we recognize that some may think our initiatives may be extreme, and perhaps there are also others that may feel the need for more stringent guidelines.  We also recognize that some of our beloved faith family will prefer to join the online worship services at this time rather than venture to worship in person on a Sunday morning. It is our plan to continue to offer the online worship for all as we continue to navigate these times.  There may also be those who feel we shouldn't be gathering at all.  We recognize the differences of opinion and ask for Grace for all viewpoints that may be shared.  Regardless of how you may feel on this spectrum, we ask that you pray for us all we journey forward as God's people.
Our situation remains changing and fluid, and guidelines may change as the world changes around us.  We appreciate your prayers and patience as we step out into the future journey together.
We look forward to 'seeing' you once again.  If you have any questions, comments or concerns, please do not hesitate to share them with our leadership teams.
Yours in Christ
The Session and Board Teams of Caledonia Presbyterian Church
Would you like to join us virtually for worship?  We would be delighted if you joined us in any of the following links:
We also offer our Music Ministries on our YouTube Channel as well: Caledonia Pres YouTube
https://www.youtube.com/channel/UCVmuiwInp3ZI1Zkl_5pEjQA
Our YouTube Channel is available here:
https://www.youtube.com/channel/UCVmuiwInp3ZI1Zkl_5pEjQA
Our Facebook Page can be found by googling or searching Caledonia,ON Presbyterian Church.  
Thank you for your continued love and support! And may the Lord continue to grant us Hope and Peace and Love in these pandemic times.                                                             —- Pastor Janice
Many of you have my home phone number. It is 519-587-4268. If anyone is in need, or knows someone else who might be, please let me know. I will help whenever and wherever I can. Many of us are carrying burdens in addition to this Corona Chaos, and life was/is difficult enough without this epidemic sweeping the world. May we continue to check up on each other. May we be able to offer some sort of love and hope in this difficult situation. May we never take for granted those things we cannot enjoy right now. And may we pray:
We arise today through God's shelter to steady us. For God's Hope to lead us and God's wisdom to call us. May Christ console those whose hearts are full of fear. May the Spirit give us words to speak comfort, and eyes to notice the need for help. May we have Christ's hands in reaching out to help others, even amidst the social distancing. God, we plead, we cry, we fear. Yet we place our trust in You. May we arise as your people in the midst of this pandemic. In the powerful name of Jesus we pray, Amen.
Peace and Blessings and love to you all,
Pastor Janice
---
See this? This is enough to feed the pastor lunch for a year!!!! But no, our pastor doesn't get this, this is the beginnings of our Soup Drive for the month of February. Thank you so much!!!
---
---
GLEECLUB 
 Young people grades 3- 8
School day Mondays
3:15 to 4:30 pm
(on hold due to covid-19)
---
Did you know???
We will now collect the outer milk bags for our friends at the Caledonia Legion to help their mission project💕
Reusing and re-purposing is a facet of being good stewards of the earth
---
---
---
---