MIDWEEK MEDITATIONS
Noon – 1pm on Wednesdays – Every Wednesday at noon the Sanctuary remains open for Midweek Meditations – a quiet time and space in the midst of our busy world.  Feel free to drop in for 10 minutes, 20 minutes, or even up to the hour.
---
FRIDAY MORNINGS
10:30 am we gather together for an in-depth study of John 15.  Membership is certainly not required, nor previous attendance.  Please feel free to join us in this safe space as we dig deeper into the Word.
---
SPIRITED DISCUSSIONS
– is a monthly gathering outside the walls of the church.  This is an informal get together that asks questions of living life in our communities while trying to follow God's will and God's Word. Join us at Wiggie's in Caledonia from 7:45 – 9:15pm on Tuesday July 31st and August 28th
---
GLEE CLUB
Resumes on Monday, September 10th
All children welcome!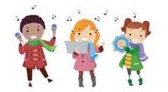 ---
---
---
NEW THIS FALL

Save your textiles!
We will be holding a textile recycling event here in the church parking lot on Saturday October 13th, just in time for fall clean up. As stewards of God's creation, let's do our part and help divert some textiles from the landfill sites and recycle them for good use. More details will come, but we can start saving and collecting now. 